Lew Horton has been known to commission some very nice Distributor Exclusive Offerings from Smith and Wesson as well as some from the other manufacturers
The Heritage series began right at the turn of the century, but to look at the styling you might ask Which Century?
The revolver pictured was manufactured in 2001 and is chambered in 45 LC, It was manufactured in the Smith and Wesson Performance Center. While it has a nostalgic old world look, it is a marvel of modern CNC manufacturing.
These were produced on a round butt 4 screw frame. Before the collecting purists tell me it is the wrong 4 screws, I know. However it is not an old firearm, it is Modern and it brings a new set of rules to the table.
I am very fond of the Gold McGivern style front bead sight. Combined with the modern Smith and Wesson micrometer adjustable rear sight it provides for a good sight picture.
The action of my sample is smooth but not quite as light as I normally like. That is probably at the urging of the Legal Staff. I can put up with it and eventually I would have an action job performed.
Accuracy is great on this one. The round butt grips are small for my hands and some target stocks would be nice, or perhaps a Tyler T-grip would be more period correct.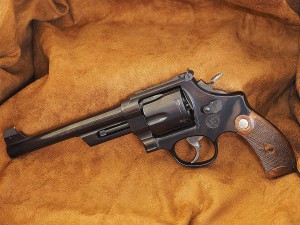 The Heritage series were produced for several years starting in 2001 and continuing on through the sale of Smith and Wesson to Saf-T-Hammer. These revolvers were shipped in old replica style gold boxes. The Models 10, 15, 17, 24, 25 and 29 were all produced. The finishes were blue, nickel and color case hardened. Not all models were offered in all finishes. I am fairly certain that the production was 150 or 200 pieces depending on the model, so not a lot of these are around
Modern accuracy, fit and finish with old world charm . . . What's not to like?